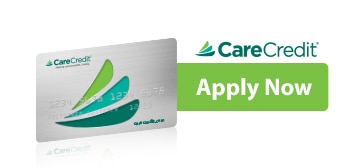 Dr. John O'Brien and our team put our clients first. That's why we believe that cost should not be a barrier to achieving your goals and improve your self-confidence.
CareCredit
We are pleased to offer our patients the leading payment program – CareCredit. CareCredit® can provide you with a financing option that can help you by making your procedure more affordable. With this program, there are no pre-payment penalties, upfront costs, or annual fees. This means that you can schedule your surgery today with low, affordable monthly payments! After your initial consultation, we would be happy to develop a treatment plan tailored to your specific needs.
To help you better understand your options, CareCredit offers a range of payment plans:
– 24 & 36-month plan options
– 6 months deferred interest options are available.
– Can be used for treatment fees from $1,000 to over $25,000
– Competitive interest rate
– Monthly payments as low as $104 on a $3,000 procedure fee
– Low monthly payments, with only minimum payments required.
One of the benefits of CareCredit is it provides a revolving line of credit for repeat procedures, without the need to re-apply! It only takes a few minutes to apply online for CareCredit and you may receive an online decision in seconds.
Alphaeon 

We also offer Alphaeon Credit. Alphaeon credit can be used for a variety of cosmetic and plastic surgery procedures. Alphaeon offers a large array of monthly payment options to help each patient reach their own cosmetic and beauty goals.
–No Interest If paid in full within 6 Months
–Equal pay 14.99% APR if paid in full within 24 or 36 months
–Special financing for purchases of $250 or more
–Credit lines up to $25,000
–Instant approvals with no application fees, annual fees, or prepayment penalties
With the Alpaeon credit card, you can receive the care and procedures your surgeon recommends, with flexible payment options to meet your lifestyle and budget. Apply today or contact us for more information!