Membership has its Perks. Join our VIP Membership Program
At John J. O'Brien Plastic & Reconstructive Surgery, We are committed to meeting your highest expectations during every visit to our office. As a way to say thank you, the VIP Membership program allows you to purchase services you're planning to buy in the next calendar year at a special savings, with the option to pay in full or pay at a set monthly rate.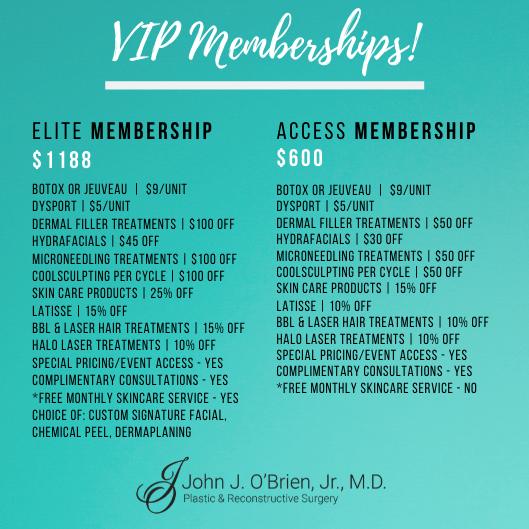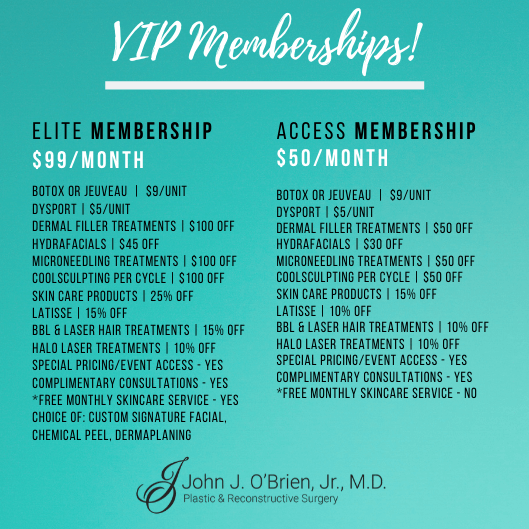 ---
VIP Membership Benefit FAQ
How much does the membership cost?
Fees are either $50 or $99 per month based on membership level (Access or Elite). Payment is charged monthly to a credit card of your choice. You can use Visa, MasterCard, Amex or Discover to sign up.
Can I choose a day for my credit card to be charged each month?
Credit cards payments will be processed on the 1st or 15th of each month.
Is there a minimum commitment for memberships?
No. You can cancel at any time for any reason with 30-days' notice.
Is there a setup fee or initiation fee?
At the time of membership enrollment there is a one-time membership initiation fee of either $50 (Access) or $99 (Elite).
I didn't get a chance to use my complimentary monthly treatment – Can I use it the following month?
Complimentary treatments cannot be carried over or transferred to another person.
Can my complimentary treatments or membership discounts be transferred?
No, monthly services and discounts can only be utilized by the member. Membership privileges are not transferrable.
*Elite membership includes a monthly complimentary peel or facial, but not both.