How the Nitrouseal® System Can Help You During Cosmetic Procedures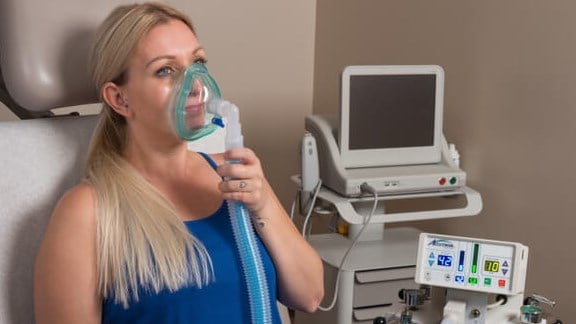 We are excited to offer the Nitrouseal® pain relief system to our patients at St. Petersburg Center for Plastic Surgery in St. Petersburg. It is a proven tool to help you relieve any anxiety or worry you might experience during your treatment.
We all know that even if a procedure or treatment is not necessarily painful, we may still experience anxiety and discomfort in any kind of medical setting. Nitrouseal® is a great way to take away the worry, and best of all, it puts you in control.
 
What Is Nitrouseal®?
The Nitrouseal® System from Sedation Systems is a patient-driven, self-administered pain management system that allows you to be awake and comfortable during your non-surgical aesthetic procedure. It uses a mix of Nitrous Oxide (Laughing Gas) and Oxygen that has long been utilized in dental and medical settings.
 
How Do I Use Nitrouseal®?
At the beginning of your treatment or procedure you will be given a mask or mouthpiece. You simply breathe through the mouthpiece or mask until you reach your desired level of pain relief. You will stay completely awake during your treatment and be able to respond to questions, requests, or directions, but any discomfort and anxiety decrease dramatically. Relief kicks in instantly leaving you feeling calm and relaxed.

The feeling wears off after a few minutes when the Nitrous Oxide is completely out of your system. You are free to repeat it as often as you'd like throughout the course of your treatment.
 
How Does it Benefit You?
There are many benefits to using Nitrouseal® during minimally invasive procedures or treatments. It is an opioid free, FDA-approved analgesia (pain relief) system. It is not addictive, and you can drive yourself home after a short 10-minute waiting period, eliminating  any need for a driver after your procedure.

Nitrous Oxide "laughing gas" is a naturally occurring gas that when inhaled acts as a weak anesthetic. This system is very easy to self-administer and 100% oxygen is given at the end of the procedure for added patient safety.
 
Does Nitrouseal® Have Any Side Effects?
The main (and intended) side effect of Nitrouseal® is a feeling of extreme relaxation. You may feel light-headed. Some people say their arms and legs feel heavy. These feelings quickly subside once regular air is breathed in. Other reported side effects include nausea (occurs in 2% of the population) and B12 deficiency.
 
Which Treatments Can Nitrouseal® Be Used With?
The Nitrouseal® System is ideal for shorter, minimally invasive procedures that may cause mild discomfort but do not produce lasting pain. You can request it for non-invasive procedures that are administered without anesthesia such as  injectable fillers, Ultherapy, laser treatments, and Microneedling. If you are someone who hates needles, Nitrouseal®  is absolutely the way to go!

Ask us to add Nitrouseal to the following treatments or procedures:  
Ultherapy  
Injectable Fillers  
Laser Resurfacing  
Scar Revision  
Chemical Peels  
Microneedling  
PRP
We care deeply about our patients' safety, comfort, and happiness, and bringing Nitrouseal to our practice is sure to be a game-changer for many of you! If you're interested in trying Nitrouseal during your next Tampa Bay Ultherapy, injectable filler, or skin resurfacing treatment, simply let us know at the beginning of your appointment. For more information, call us at 727-341-2408 to request a consultation.